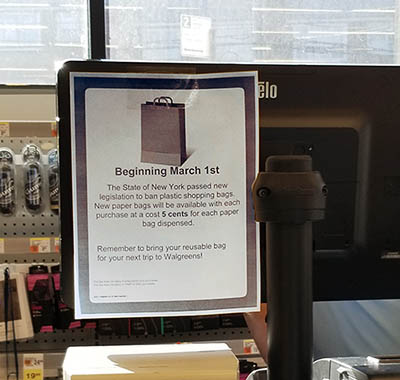 Today marks the day that the New York State ban on plastic bags takes effect (as well as New York City's $.05 fee for paper bags). I haven't yet been to any stores to check on compliance. I hope someone who's more intrepid on a cold Sunday morning than I am is taking up that task. But as of yesterday, shoppers I saw in a supermarket and a drug store were being offered and were taking plastic bags. I guess they were feeling they didn't need any practice, despite the signs that have been there for the last couple of weeks. And cashiers were still surprised when I refused them.
And there is the predictable backlash. In the New York Post, one shopper was quoted: "Not good for old people, for disabled people. Where do you put your groceries if they're not in a bag? So it sucks."
Seniors have been a factor. The city tried to impose a fee on plastic bags in 2017, but it was defeated by the state legislature. When I called my state senator's office to complain about him voting against the small fee, his office told me that his vote had been based on extensive complaints by seniors that they couldn't afford the $.05. I'm willing to bet that the plastic bag lobby sent staffers to senior facilities where they could persuade people en masse to call their legislators. (He was voted out of office at the next election. I'd like to think his opposition to the fee was the cause of his defeat, though I'm sure it wasn't.)
Perhaps it was for the best as the state's outright ban is better than a fee by the city.
So, New York is now added to my database of plastic bans and fees worldwide. In fact, just two months into 2020, I've added several entries. Some are just bans on plastic bags while others are more extensive bans on single-use plastics: China (plastic bags by the end of 2020 and other single-use plastics to follow), Thailand, Jamaica, Belize, Barbados, Dominican Republic, Grenada, Trinidad and Tobago, and the Bahamas.
A bill in the US Congress, sponsored by Sen. Tom Udall (D-N.M.) and Rep. Alan Lowenthal (D-Calif.), would address the issue of single-use plastics nationwide. One groundbreaking part of the bill, according to EcoWatch, "requires plastic producers to take responsibility for their waste. The bill would shift the burden of waste collection and management from local governments and taxpayers to the manufacturers of items like packaging, containers, food service products and paper, who would be charged with designing and funding recycling systems."
That's a good thing because bans are only as effective as the compliance with them. As long as recycling places the onus on the public, this will be a problem. And it's not always because of our laziness. It's often just plain difficult. Even after researching it (and how many people do that?), I'm still uncertain what types of plastic can be recycled here in NYC. (Cardboard milk cartons, according to the posters, get recycled with plastics, not paper. Go figure.) The city says all hard plastics – not the flimsy stuff – can go in the recycling bin. But Beyond Plastics and Greenpeace say that much of that can't actually be recycled, even if a company's label sometimes says it can be. The city is just trying to make it simpler for us. Sort of.
That Greenpeace report found that:
Only some PET #1 and HDPE #2 plastic bottles and jugs can be legitimately labeled as recyclable in the U.S. today.
Common plastic pollution items, including single use plastic food service and convenience products, cannot be legitimately claimed as recyclable in the U.S.
Plastics #3-7 have negligible-to-negative value and are effectively a category of products that municipal recycling programs may collect, but do not actually recycle. Plastic #3-7 waste collected in municipal systems across the country is being sent to landfills or incinerated.
Many full body shrink sleeves on PET #1 and HDPE #2 bottles and jugs make them non-recyclable.
Remedying this would require something called "extended producer responsibility," the concept that a manufacturer's responsibility doesn't end when the product goes out their door. That's what that US congressional bill would address.
EPR could go beyond simple plastic recycling. Imagine if Dell or Apple had to take their laptops back at the end of their useful lives. Or if Whirlpool had to pick up your dead refrigerator or washing machine. Not only would it simplify recycling, it would also mean companies would want to design their products keeping in mind that they were going to have to deal with them later on. That'd be incentive to incorporate something call "design for disassembly" in order to make recycling easier.
That would be a breakthrough. It would reverse that shift of responsibility. A more direct approach in the meantime is a good old-fashioned lawsuit. Gizmodo's environmental arm, Earther, reports that the Earth Island Institute is suing "ten companies—including Coca-Cola, PepsiCo, Nestle, and Procter and Gamble—on Wednesday, alleging that the companies pollute waterways, coasts, and oceans with the millions of tons of plastic packaging they produce. A 2018 report found that globally, Coke, Pepsi, and Nestle account for 14 percent of plastic pollution."
Ideally, we stop the scourge of single-use plastics. But that's going to take a while and, meanwhile, we already have an unfathomable amount of plastics ending up in landfills or the oceans. While it's better, I always tell my sustainable design students, to prevent a problem from occurring in the first place rather than have to deal with it afterward, we have to do both in the case of plastics. There are companies like Terracycle and Smile Plastics that are making things from that stream of detritus. An Israeli startup is working on taking all sorts of garbage – plastics, dirty paper and food waste – and making into a kind of plastic pellet that can then be made into other products. It would solve a multitude of problems including diminishing the amount of methane, a greenhouse gas, produced by landfills.
As great as that could be, it still addresses the problem after the fact. Single-use plastics are a perverse use of an otherwise wondrous material. Because plastics last such a long time, let's use them for products that last a long time. Not flimsy bags and soda bottles and packaging.