On the Colbert Report Monday night – if you're keeping count as I am, that's two weeks in a row that Colbert's "forced" me write a post – environmental policy expert Michael Shellenberger advocated for nuclear power as a necessary energy source. His rationale is that energy demand is going to double by 2050, efficiency and conservation notwithstanding, so we really have no choice.
The new e-book he and co-author Ted Nordhaus have edited is called Love Your Monsters and in the Colbert interview, he explains we need to love our problematic children, our monsters, rather than abandoning them.
As I've mentioned before, I hate metaphors because it seems you can always find one to make any position sound right. One of our monsters, he says, is nuclear power and we simply haven't been good parents. Were they my children, I'd give nuclear reactors a really really long time out.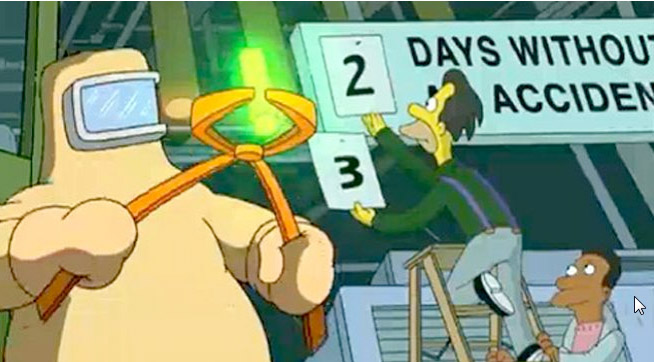 I could go on about the major issues of nuclear energy, from the fact that it isn't economically feasible without massive government subsidies and insurance, to the not-so-small question of what to do with the leftover radioactive waste for the next few thousand years or so. But there's a bigger point at work here. Shellenberger and other pro-nuclear environmentalists like Stewart Brand are committing the ecological sin of not thinking in systems. They're looking at the energy issue as if it's independent from our other environmental and social dilemmas. In fact, there are at least two larger pictures that they are ignoring.
That doubling of energy demand prediction is predicated on an assumption of the status quo: that the population will continue to grow until we reach 10 billion of us sometime mid-century and, perhaps more significantly, that our patterns of consumption will continue along the paths we've been following for the last century.
It's somewhat understandable that they follow the population growth predictions. Slowing population growth, to put it mildly, is a difficult issue. (Though, as I mentioned in "Less is More, More or Less," it's been pointed out that annual population growth is roughly the same as the number of unwanted pregnancies.) Altering our rates of consumption, however, is a much more achievable – and desirable – goal.
There's a fundamental mathematical formula that calculates our environmental impact. It goes like this: I=PxCxT. Environmental Impact is determined by the Population, how much we Consume and the resource or Technological intensity of those things we consume. So the ways to reduce impact are by reducing population, reducing consumption and decreasing material and energy intensity. That predicting doubling of energy demand assumes we can't do much or anything about the first two and we can perhaps eke out some mildly increased efficiencies in the last one.
It also assumes, as most conventional economic theory does, that those increases in C and T are a good thing because growth is assumed to be good. Sort of a tautology. But as has been mentioned here in EcoOptimism and elsewhere, more consumption and more technology do not automatically lead to improved quality of life. In fact, once basic needs have been fulfilled, the opposite is true. Many studies have found that people in developed countries are no happier now – and may be less happy – than they were a generation or two ago. Of course, indoor plumbing and antibiotics made life infinitely better and many of us would find it hard to live without Starbucks drip coffee makers. However, the digital revolution, for all its amazing abilities and benefits, doesn't seem to have improved quality of life or happiness. Some would say it's done the opposite.
So that's the first missing element in the pro-nuclear argument. The path it assumes is not actually the path we want. And the paths that would really make our lives better happen to also require less energy.
The other part of the big picture that they are missing is due to a narrow concept of environmentalism that focuses almost exclusively on energy. One of the first slides I often show my classes shouts out "It's not just about climate change." Yes, climate change chaos has the potential to do to us what that asteroid did to the dinosaurs. At the very least, adapting to it is going to be very expensive and will in all probability involve a lot of human suffering. Superstorm Sandy brought that point home. A seemingly relentless series of other atypical storms, heat waves and droughts are making the point elsewhere.
But simply solving the energy issue with low-carbon sources, whether it be through "too cheap to meter" nuclear power or a more likely blend of renewable sources, won't make everything hunky-dory. It won't solve resource depletion, water shortages, loss of biodiversity or numerous other ecological impacts. Moving away from fossil fuels doesn't diminish the amounts of materials needed for all the stuff demanded by 10 billion people desiring to live as Americans do. It doesn't reduce the staggering amounts of material we throw out daily. It doesn't eliminate the toxic runoff from the industrial farming that barely feeds 7 billion people today. It doesn't change either P or C or T.
Here's the thing: we can't approach this (nor should we) with only the goal of weaning ourselves off fossil fuel. We need to dramatically reduce the demand for energy and – happily — that can go hand in hand with some very positive changes in our patterns of consumption and in our lifestyles. And then we wouldn't have to deal with creating more misbehaving monsters in our nuclear family.