We can all use some positive news these days, especially on the environmental front in which science is considered evil, denial is an alternative fact and the EPA is now what I'm calling the Environmental Destruction Agency. And while I don't want to gloss over the issues – there isn't enough paint in the world to do that – I offer here The Distillery, a weekly (or thereabouts) selection of posts to help offset the PTSD of our current nightmare.
The posts I pick will be "real" in the sense that they aren't pie-in-the-sky wishful thinking, as fun as those can be, but are evidence of EcoOptimism.
---
Our end of the year Distillery is newsworthy updates to some recent – and not-so-recent – posts.
And here's hoping that 2018 will bring us more EcoOptimism. (Because, well, 2017.)
On intergenerational rights (Original Distillery post date: 12/5/17. Original EcoOptimism post date: 4/1/13)
From Grist.org:
December 12, 2017

"Trump's lawyers tried (and probably failed) to throw out the kids' climate lawsuit"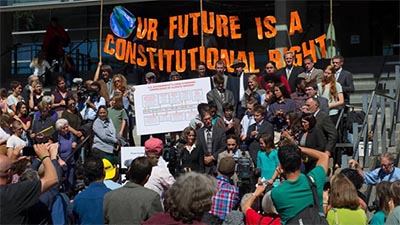 Image source: Our Children's Trust/Facebook via cbcradio
EcoOptimism's take: Despite first the Obama administration's efforts and now Trump's, this groundbreaking lawsuit continues to move forward.
On a related note, a different approach to environmental rights:
From Thinkprogress.org:
December 22, 2017

"The radical movement to make environmental protections a constitutional right"

Alleghany National Forest.
Image credit: Wikimedia Commons, Panoramio/Diego González

EcoOptimism's take: You'd think that the right to a healthy environment for those who are alive NOW, would be a more straightforward concept than the intergenerational version. According to this post, though, it's currently a constitutional right in only two states, Pennsylvania and Montana. But it's being used to challenge pro-industry, anti-environment legislation.
On the economic benefits of addressing climate change (Original EcoOptimism post "Surprise: Environmentalism Actually Boosts the Economy," date: 1/19/2015)
From the Los Angeles Times
December 12, 2017
"California's cap-and-trade climate program could generate more than $8 billion by 2027, report says"
EcoOptimism's take: The premise of EcoOptimism is that good environmental policy is good business, or to steal from the famous line about General Motors, "What's good for the environment is good for the country."

On the movement by local governments to take the lead in climate action (Original Distillery post date: 11/17/17)
From USA Today
December 5, 2017
"Obama praises mayors as 'new face' of leadership on climate change in Trump era "
From CityLab
December 5, 2017
"Lab Report: Obama Calls Cities 'The New Face of Leadership' on Climate Change"
EcoOptimism's take: Damn, we miss him