I promised there'd be shorter and sometimes less weighty posts intermixed with oh-so-profound lengthier ones. So at the risk of undermining EcoOptimism's high principles, here's the first:
Not sure if it technically qualifies as EcoOptimism, but this is definitely optimism of some sort. (Well, the Woody Allen sort, which means it must incorporate at least some undertones of irredeemable pessimism.) The house from Sleeper has been renovated and updated with lots of high tech goodies, some of which address energy efficiency.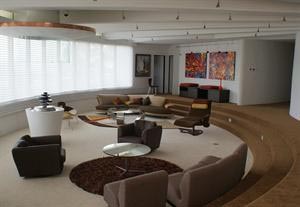 The house was sold in foreclosure in 2010, for less than half of its 2006 purchase price, so I guess we should go easy on the optimism aspect.
At the very least, it makes me want to rewatch Sleeper.