Having recently returned from a conference in Mexico City, my EcoOptimism topics list is overflowing with ideas for posts. One of them appeared in the seat pouch of my return flight.
The conference topic was "Restoring Paradise," with a focus on bringing nature back to the city. So it was with amusement that I mindlessly scanned the Skymall catalog while waiting for takeoff and found some, shall we say inventive, ways to reincorporate nature in our lives.
In my talk at Mexico City, I discussed, among other forms of urban greenery, living walls and vertical gardens. But they require so much effort (not). Here's the answer for the true urbanite, the kind who has genetically evolved without a green thumb:
Next nominee:
Here in NYC, we don't often have utility boxes on our lawns, in some cases simply because we don't have lawns. But we do have the rather disgusting system of putting our garbage out on the sidewalk in  big  black plastic bags. Well, now we can hide them in "natural" elements, if by natural you allow that they can be made of polyethylene.
Added benefit: helps keep rats out.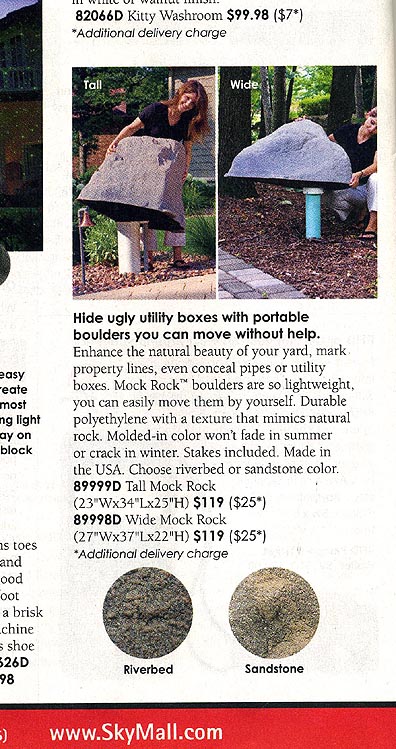 I also spent some time in Mexico City talking about biophilia, the theory that says we all have an innate tendency to focus on life and lifelike processes. Here's a way to focus on the lifelike aspect without the encumbrances of actual life. Note the presumably Faux Ivy Trellis (see above) in the background.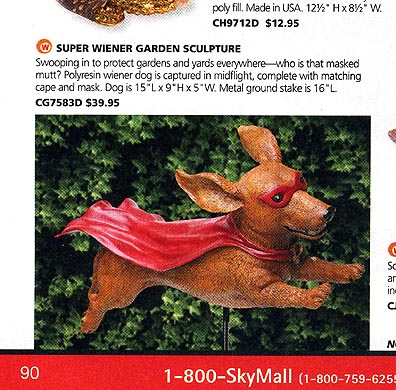 On a separate note, but still related to the Wrongest Product Awards, Lloyd Alter over at Treehugger.com, expounds on the Holstein Pet Treat Maker. He had submitted it a few days earlier for the Wrongest Product Awards, which he linked in his post.  So I'll officially add it to the nominations, though I'd have to say it's a tad premature to declare, as his post concludes, "we just won."
The Wrongest Product Awards will go to those products (and their designers) that embody the least amount of redeeming value while incurring the use of unnecessary, often gratuitous, materials or energy.
How is this relevant to EcoOptimism, you might ask? Easy – it shows how extraneous so many products are, often in a "what-were-they-thinking" sense.
Nominations are open. Send yours to ImNotBuyinIt (at) EcoOptimism.com.