Some not-so-startling news – at least to those of us directly affected – was released last week by the American Institute of Architects.  The gist of the sobering report: architectural firm billings have dropped 40% since 2008 and more than 28% of positions have disappeared.
(We always, by the way, seem to be one of the professions hardest hit by economic cycles. In a previous period, I recall a newspaper headline that went something to the effect of "In This Recession, Be Glad You're Not an Architect." I couldn't find that despondent headline in Google just now. But, searching the New York Times, I turned up apparently similar articles from other downturns: "Recession is Ravaging Architectural Firms" (1992), "Many Architects Are Losing Jobs in the Recession" (1983), among others.")

The situation assessed more bluntly at planetizen.com
I brought this up in my return visit on Curtis B. Wayne's radio show "Burning Down the House" this past Sunday (archived here) in which we were discussing ecodesign and economics. While our larger topics concerned the origins of suburban sprawl and how that subsequently became the "American Way of Life," I used those statistics as a segue to talk about what it is that architects and other designers can or should be doing in a future that is likely to preclude making things – buildings and objects – on the same material scale as in the previous century.
On the face of it, there's a conflict of interest in a designer advocating a less materialistic world. Are we, in effect, talking ourselves out of jobs? (You know, the jobs that don't exist in the first place….) Certainly we have to spurn McMansion commissions, or at least urge our less eco-minded clients to adhere to the advice Sarah Susanka provides in the Not So Big House. And it's rather hard to justify designing yet another chair or teapot when the world is not exactly lacking in those.
But – and here comes the EcoOptimist's sunny side of the storm – architects and designers are particularly well suited to the imminent task of advocating for and persuasively cajoling us into the "better place" that can be the outcome of our dual eco crises. As I've mentioned previously, designers are, virtually by definition, optimists; "Designers look at a thing or a problem and immediately start imagining what could be." And as my blog's alter ego might say, "problems, have we got problems." So that optimism has plenty of targets to address.
Designers, obviously, also have to be visionaries. How else to see to possibilities amidst the economic and ecological rubble? Or to envision potential utopias where others fear post-apocalyptic dystopia? Accompanying that, most designers have the ability, developed through years of sometimes contentious client and public agency meetings, to communicate their visions. (One hopes, of course, that they are not so good at communicating that they are able to white- or green-wash a less than visionary idea. I'm looking at you, Le Corbusier and Frank Lloyd Wright. Plan Voisin and Broadacre City, as enticing as they may have looked at the time, did not help.)  Environmentalism and ecodesign have long-standing PR and image problems, with most people connoting the movements with personal sacrifice. Designers, working in teams with others as they often do in their projects, can both devise positive solutions and create imagery that allows the public to envision how our lives would be affected.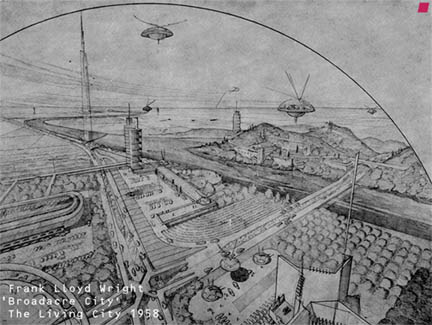 It's often been stated that architects are "Renaissance men" (apologies for the gender specificity), with their endeavors encompassing math, physics, sociology, psychology – and sometimes, for those designing private residences, couples counseling – as well as, of course, the expected 2D and 3D arts. This generalist background, which unfortunately is becoming less the norm in architectural education, is necessary for dealing with complex, multidisciplinary issues in a systems manner. Specialists, on the other hand, are not usually equipped to synthesize the factors outside their expertise; consciously or subconsciously they focus on what they are familiar with. (Old medical joke: What's the difference between a general practitioner and a specialist? One treats what you have; the other thinks you have what he treats.)
Here, then, is the upside of that AIA survey. Yes, conventional building and object design, along with their attendant jobs, are going away. That's a good thing in terms of environmental solutions. Turns out it's also a good thing for architects and designers, as well as the world at large, in that their abilities can provide a much-needed service as we all search for and develop those solutions.
A post in The Atlantic Cities about the AIA survey asks: "Where are all the out-of-work architects going? Possibly to jobs in real estate and city government. And that could be good news for everyone." In past recessions, architects, especially recent grads, have often found their careers re-routed. Coincidentally, a few years back, the AIA embarked on an initiative to encourage architects to run for public office, observing "architects learn creative problem solving and other skills that can make them effective community leaders." The emphasis there is on architects' strengths in listening and consensus building. Fair enough and important enough, but the potential goes beyond that I think, to employing those multidisciplinary, generalist skills mentioned above into a – and I use the word hesitantly – holistic synthesis.
So designers have both an opportunity and a responsibility to redirect their talents. For reasons of both necessity and choice, we designers need to apply ourselves to developing and communicating our constructed futures. We need the work, and it's good work to be doing.