Along with some Good News Disguised as Bad News
It may not be as evocative and disturbing as that image of the turtle with a straw stuck in its nose, or the even more disturbing video  (warning: it's very graphic and hard to watch), but recent stories about not just the environmental impacts of plastics, but the human health impacts as well, are serving to further the worldwide restrictions and bans on single-use plastics.
As with the turtle image, the realization that we are all affected by the proliferation of plastics carries a bit of what I've been calling "good news disguised as bad news." Admittedly, in virtually all the instances I've cited previously – and now here – as examples of this, it's hard to put a positive spin on such disturbing images and impacts, but the result is often a strong and visceral reaction that can kick us into action. A prime example of this is the infamous burning of Lake Cuyahoga in 1969 that resulted in the Clean Water Act and was responsible, in part, for the creation of the EPA.
In my "Good News Disguised as Bad News" post, I wrote about the countering, galvanizing response that is emerging from the rampant destruction of both environmental and health protections enacted by this administration (including the decimation of the EPA). A case in point: a pre-election post in ThinkProgress about a climate change-denying Congresswoman's difficult re-election campaign asserted "Even climate and environmental issues, frequently relegated to the back-burner, have made it onto the radar in 2018 due to the administration's rejection of climate science and assault on environmental protection."
Still, conveying the urgency, or even the importance, of environmental issues can be difficult and explains, in part, why public support lags. Taking a cue from the women's marches' "pussy hat," perhaps a hardhat made to look like a turtle shell or tee shirts emblazoned with the Chris Jordan photo of the albatross that died from consuming plastic waste may be the emblem we need to further awareness of the global problem of single-use plastics.
The health impacts of plastics are harder to convey. How do we conjure an image to depict microbeads in our food? Or plastics in salt and our poop? (Let's skip the imagery of the last one. I don't think it will help our cause.)
Nonetheless, even without a rallying image, regulations and bans of single-use plastic are spreading almost as fast as ocean plastics, and so my "Status of Plastics Bans Worldwide" continues to be updated. Just this month I added bans ranging from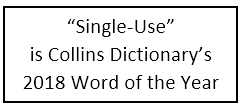 Jamaica to England to the entire EU. And 250 companies, governments and other organizations around the world signed "The New Plastics Economy Global Commitment," pledging to eliminate by 2025 all plastic packaging that isn't recyclable, reusable or compostable. The signatory companies alone, which include the likes of Coca-Cola and Unilever, represent 20% of all plastic packaging produced globally.
If you know of bans or fees that aren't on the list, please let me know.