Scary things I've experienced or heard in the past couple of weeks: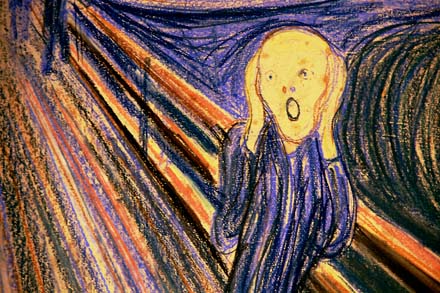 On the bright side, I guess, we've a re-elected president who actually mentioned climate change (though barely) and, here in NY, a governor and a mayor who are willing to go further than just mentioning it. Whether that will amount to more than lip service is yet to be seen.
Among the many issues this quadfecta of scariness raises is one that starts with the question: is it time to be scared? Once you get past the basic question of whether this truly is scary stuff — the dead canaries before an imminent disaster — it's actually, I think, a matter of several more complex questions.
The primary one I'd pose asks whether getting societally scared is useful. This is an old question in the environmental movement. Will we be more successful and persuasive if people fear for their lives? Historically this has been true, but there are risks in that approach: backlashes, accusations of crying wolf and/or hysteria and, conversely, the possibility – which seems to have proven the case so far – that there's no way to create an imminent enough and sustained environmental fear. Climate disasters and oil crises come and go. Most of the country has long moved past Katrina and the BP oil spill, and Sandy is already all but gone from the headlines.
Can one be scared and optimistic, too?
For a blog incorporating the word optimism in its title, a further question is whether fear is antithetical to optimism. I don't want to get embroiled in language or psychology definitions; certainly one can be afraid while hoping for the best. But EcoOptimism is based on the idea that we neither want nor need to make the eco argument on an "end is nigh" approach. We know that hasn't worked with previous warning signs. Perhaps it might this time. We don't, however, know whether there is a tipping point of warnings, in terms of either frequency or scale. In other words, even if we wanted to, we can't count on it.
Many of us have also been reluctant to make our case hinge on such a tipping point because it's entirely possible that by the time the public perceives that we've reached that point, it will be too late. That fatalism would seem to be even less in keeping with this idea of EcoOptimism, but here's where I think some clarification is needed. E-O (I'm tired of typing it out) isn't about a belief that the worst won't happen. We'll leave that head-in-the-sand delusiveness to the James Imhofes, Koch brothers and other Friends of Fox.
Rather, the optimism in E-O is the belief that, yes, there are solutions to our environmental issues, but additionally those solutions are also compatible with (or the same as!) solutions to our economic travails AND, furthermore, implementing those solutions will result in improved well-being and improved life styles. This is counter to both the usual notion that environmental solutions are a drag on the economy, and that environmental solutions require sacrifices in the quality of our lives. (Apologies if you've been a regular reader of E-O; you've heard me say this innumerable times.)
So what this means is you or I can be an EcoOptimist and yet be concerned or even pessimistic about our future. Phew, so in my moments of eco despair  I'm not contradicting myself after all. Nor do we have to be delusional or unrealistic; we can comprehend that we've got a nasty situation here, and we may or may not be too late. (More on that in an upcoming post.) The point is that you don't have to agree that doom is imminent (plus or minus a century or two) in order to pursue the same steps and policies advocated by the Chicken Little greenies when those policies are also beneficial in non-enviro senses…and, oh by the way, might also save humanity. As any number of Jewish moms would say:
What's not to like?  
What we have here is the environmental analog of Pascal's Wager. (What's the term – other than "plate of shrimp" –used to describe when something comes up multiple times in a short period? Pascal's Wager has done that to me this week.) Blaise Pascal argued that one might as well believe in God because, in doing so, you'd have nothing to lose and everything to gain. It's just, he says, the rational thing to do. And so it is with environmental policy.