Were it not for the fact that the original product involved here is totally unnecessary in the first place, this Worst Product Award nomination might have gotten a split decision from the "judges," i.e. me.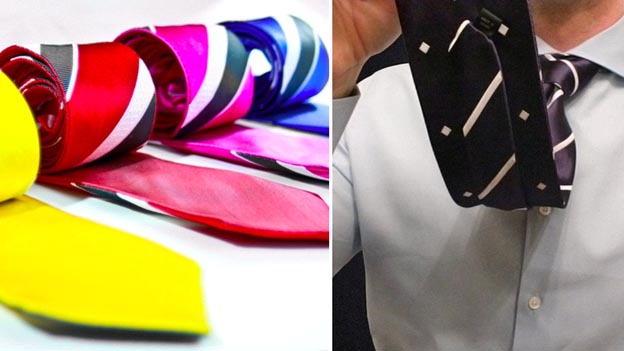 On the one hand, the Magnetie could be seen as a form of dematerialization because it means the wearer no longer needs a tie clasp. If you're a tie wearer though, you may respond that you never use a clasp anyway, what with those little fabric loop thingies on the back of the tie serving almost the same function. I think the last time I saw one was on Mad Men.
On the other hand, the tie now gets to do double duty because it's reversible and can even have a different pattern on each side. So you could rationalize that it takes the place of two ties.
But then there's the recycling issue. The tie is no longer made of a single material and now requires pieces to be separated later in life. (Does it get recycled with metals?)
I say let's dematerialize the whole darn thing. I'll admit a bias here. I've been fortunate to have not worked in situations where ties were de rigueur. And my "go to" tie for those times when I do need one is made from a recycled seat belt, so I guess it serves as a statement and not just an ornament.
Ties must have had a purpose at some point in time, but no longer, at least as far as I can tell. They're no more than an affectation, used to display self-importance, if not of the wearer then of the business or profession that often requires ties. (OK, that's a bit heavy-handed, but really: what ARE they for?)
Given my recent rant about holiday gifts, it's unlikely there will be any ties, magnetic or otherwise, under my tree. And that's just fine.
Previous Wrongest Product Award nominations
Wrongest Product Award nominations are open! Send your nominees to ImNotBuyinIt (at) EcoOptimism.com.