Beyond the Ban:
Plastics Alternatives and Mitigation

We can all use some positive news these days, especially on the environmental front in which science is considered evil, denial is an alternative fact and the EPA is now what I'm calling the Environmental Destruction Agency. And while I don't want to gloss over the issues – there isn't enough paint in the world to do that – I offer here The Distillery, a weekly (or thereabouts) selection of posts to help offset the PTSD of our current nightmare.

The posts I pick will be "real" in the sense that they aren't pie-in-the-sky wishful thinking, as fun as those can be, but are evidence of EcoOptimism.
---
In just the short span since our recent post on the scourge of plastics, there have been more announcements of new or proposed bans on plastic straws and other types of plastics. (This week, Starbucks announced it will stop using plastic straws.) Rather than keep enumerating these individually, I've created a page, "Keeping Tabs on Plastics Bans," with a list organized by type of entity – country, locality, company –  and type of plastics – bags, straws, packaging, microbeads. The list provides an easily graspable view of the extent of the movement, and will be updated as additional bans are set.
As promised in that previous post, we're going to focus here a bit on some alternative proposals and materials. Dealing with plastics – as with most environmental issues – can be broken down into two approaches: what to do once the problem is happening versus how to prevent the problem in the first place. These are commonly referred to respectively as adaptation versus mitigation. Years ago, I also heard this described as "front of tailpipe" and "back of tailpipe," the metaphor being pollution from cars, which can be dealt with either by filtering it in the exhaust pipe (that would be the "end of tailpipe") by, for example, a catalytic converter, or by modifying the engine so that the pollution is prevented or at least diminished before it occurs. As you can imagine, heading off the problem is preferable to fixing it afterward.
In the case of plastics, we have a combination of damage already done along with a continuing stream of new plastics adding to the damage. Where plastic refuse has accumulated, such as in ocean gyres, the only remedy is to somehow, laboriously, retrieve it. Another adaptive after-the-fact approach is recycling. That at least keeps it out of the waste stream. (In theory, anyway. Less than 10% of plastic in the US is actually recycled. And, as others have noted, recycling shifts the responsibility – environmental and economic – from the actual producers of the plastic onto us, the consumers)
EcoOptimism's take: Whether this type of ocean plastic reclamation would actually have a significant impact, given the scale of the problem and size of the oceans, is a topic of debate. But in any case, upstream prevention would be a much better solution, at least in terms of addressing a continuing problem.
The better solution would have been to not produce the plastic in the first place. We're well beyond that option, obviously. But that doesn't mean we shouldn't attempt to avoid further exacerbating the problem through mitigation, meaning let's not make more plastic if we can avoid it.
Plastic is so ubiquitous at this point that it's hard to imagine a world without it. But there are indeed alternatives, both mitigative and adaptative.
Some of those solutions exist right in front of us, or at least in other places we can adapt from. A well-known one in some environmental circles is the Indian tiffin box. The tiffin involves a system in which lunches for workers and school children are packed at home in the morning and then distributed through a remarkable system by dabbawalas. The relevant idea here is that the home prepared meals arrive in tiffin boxes made of stacked metal dishes rather than disposable take out containers and, after the meal, are picked up and returned to each family's kitchen for reuse.
This system has found a modern interpretation in Brussels where the city has introduced the Tiffin Project. People sign up for the project, purchase tiffin containers and bring them when they purchase take out foods. They even get a 5% discount on their orders.
From Treehugger
April 13, 2018
"Brussels has an ingenious solution to wasteful takeout containers"
EcoOptimism's take: as optimistic as we like to be, it's hard to imagine such a system succeeding here. As the Treehugger post notes, the system works best with small, local restaurants and "helps people discover new places to eat." Takeout food in much of this country tends to come from large chains with familiar menus.
Tiffin boxes, if not the delivery system, have found their way west. You can even buy them on Amazon and elsewhere, with a Western interpretation: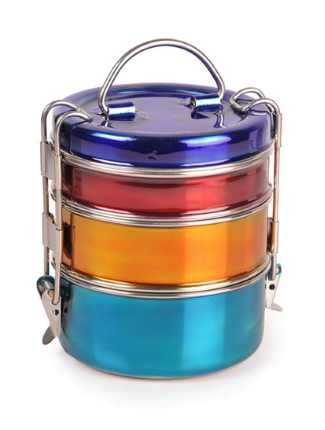 A better-known example of a plastic substitute is, of course, the reusable cloth bag. They've become so ubiquitous that you'll find them for sale (branded, of course) in all kinds of stores – not just the eco-oriented ones like Whole Foods, but conventional stores, too. And they're an almost inevitable part of events. We have a (reusable) bag full of reusable bags that we've accumulated from fundraisers, trade shows and promotions. Too many, in fact.
But there are times when a cloth bag just won't cut it. For those, there are forms of plastic that are not made from oil and that can decompose after use.
The first plastics invented were made from plants. (The word cellophane refers to the fact that it was made of cellulose: plant fiber.) A famous photo shows Henry Ford swinging an axe against the bioplastic trunk of a Model T to show the material's strength. (The axe was actually covered with fabric but made for an impressive display nonetheless.) As the story goes, he wanted to make his cars with bioplastic, but the steel industry had other ideas about that.
Bioplastics are getting renewed interest for applications such as plastic utensils made from potato starch. The main caveats here are how well they decompose or recycle and that the plant starches not be taken from foods. The solution to the latter is to use crop byproducts such as wheat chaff as opposed to the grain.
EcoOptimism's take: In addition to the points above, bioplastics, for now, are not quite as versatile as synthetic plastics, but applications are broadening and have wide potential. 
But there's now a renewed interest in bioplastics. A case in point:
From Engadget:
March 2, 2018
"Lego will soon make bricks out of sugarcane bioplastics"
EcoOptimism's take: While it's exciting to think that all those future Lego creations might not end up buried forever in landfills, this announcement is a bit misleading because, for now, it's only Lego's landscape elements, comprising about 1% – 2% of their production, not the iconic bricks.
But it's not likely that all synthetic plastics can be substituted with bioplastics. And that leads us to a back-of-tailpipe types of mitigation. Among them are technologies that break down plastics.
From The Guardian:
April 16, 2018
"Scientists accidentally create mutant enzyme that eats plastic bottles"
From Grist:
March 2, 2018
"Mealworms munch on Styrofoam without dying, shock scientists"
EcoOptimism's take: In our Parsons School of Design Sustainable Systems course, we have the students try this out. Though they tend to be grossed out by the mealworms (see photo above!), they get to see that it actually works.

Still, these last two are after-the-fact approaches and, not to belabor the point, we'd be much better off not incurring the problem of more plastics on the first place.